"When I first started studying in the Faculty of Medicine, Padjadjaran University, my family was having difficulty paying for my coursework, but thanks be to God, with the assistance of a scholarship from Alam Aksara, I was able to complete my studies. Receiving this scholarship changed my mindset from someone who just figured his parents would support him through school to someone who was willing to make an effort to earn money on his own. While I was a student, I looked for side businesses that might produce enough income to cover my daily needs. I sold donuts in the classroom during breaks between lectures and also sold medical equipment and lab coats to my friends. This experience made me a more independent individual. I hope that this scholarship program will continue to flourish and be able to assist students who have potential but are held back by their economic situations. Now I am ready and willing to sponsor a student myself." (July 2009)
Muhammad Barry Akbar, a graduate of the Faculty of Medicine of Padjadjaran University, Bandung, works as a government physician in Sumedang, West Java, and also has a private practice in Bandung.
_____________
"I had always wanted to continue my studies to the highest possible level, but when I was in high school, I never dreamed I would be able to go on to university. But once I had been admitted to the University of Indonesia and offered a scholarship by Alam Aksara, my wishes were fulfilled. This scholarship not only helped to reduce my financial burden but also gave me the chance to pursue the aspirations that I had almost given up and to build a future for myself. Thank you for all your support. I hope some day I will be able to do the same and help to open the way for other students to achieve their dreams." (July 2009)
Tika Rianty is a graduate of the Faculty of Public Health of the University of Indonesia.
_____________
"I am extremely happy and grateful to be a recipient of a scholarship from Alam Aksara. Previously, I used to have difficulty in dealing with my educational expenses due to my family's economic situation. My mother has struggled hard to support my three younger sisters and me by working as a farmer in place of my father, who passed away several years ago. By covering my educational expenses, the scholarship from Alam Aksara has been hugely beneficial. This program has opened up wider opportunities for me and given me the means to pursue my education with strong enthusiasm and motivation to fulfill my goals. I am aware of my inability to repay all that has been done for me, and so I would simply like to say thank you very much to everyone at Alam Aksara, especially to the donors. I hope that assistance will continue to be channeled to talented Indonesian young people whose economic status is putting obstacles in the way of their continuing education." (August 2009)
Haryuni Mustaing has a degree in nursing from the Faculty of Medicine, Hasanuddin University, Makassar.
_____________
"Before receiving this scholarship, I pursued my studies relying solely on what my father's hard work as a farmer could produce. This situation motivated me to study harder, and perhaps it is because of this that I received this scholarship starting in the second semester of my last year in high school. I never dreamed that I would receive this scholarship. I am glad to have been so greatly assisted by it because I am able to reduce the burden on my parents and also make them proud. This scholarship is a strong motivation for me to pursue knowledge to the highest level that I am capable of achieving. It touches me deeply that these scholarships exist because it means that there are people in Japan who are concerned about the education of young people in Indonesia, and as a result of this concern, this program is able to support students from primary school on into higher education. How could I ever repay all this? The only thing I can do is to say the words 'thank you.' I hope this program will continue to take in even more poor but able students and wish every success to all the sponsors." (August 2009)
Nur Afni Fadillah is a graduate of Makassar National University, with a degree in guidance counseling.
_____________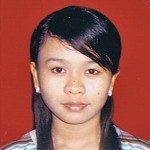 "First of all, I would like to express my deepest gratitude to the donors who have contributed a portion of their assets to help disadvantaged young people in Indonesia. The Alam Aksara scholarship that I have received has been extremely helpful in reducing the burden on my father, a retired teacher on a minimal pension who must still struggle to support his family and pay for the education of his children. If it had not been for this scholarship, I probably would only be able to stay at home and help my mother with the cooking because it is extremely difficult to find work with only a high-school diploma. This scholarship from Alam Aksara has truly changed my life; it is a gift from God. My great hope for the future is that these scholarships can continue so that people like me who are at an economic disadvantage can experience the beauty of becoming a person who is educated. Success always to those who have donated to Alam Aksara. May the goodness of their hearts bring them blessings. Amen." (August 2009)
Kasmirah has a degree in government from Hasanuddin University, Makassar.
_____________
"Thanks to this program, I've been able to continue my education up to the university level. Without it, I probably would have dropped out of school because my father is dead and my mother has only the income from the small shop she runs. I hope that this program will go on growing so that it can help those less fortunate to be able to continue their educations so that they will achieve their aspirations." (July 2009)
Ragil Ramadhani is a graduate of Bogor Agricultural University in Bogor, West Java, with a degree in oceanography.